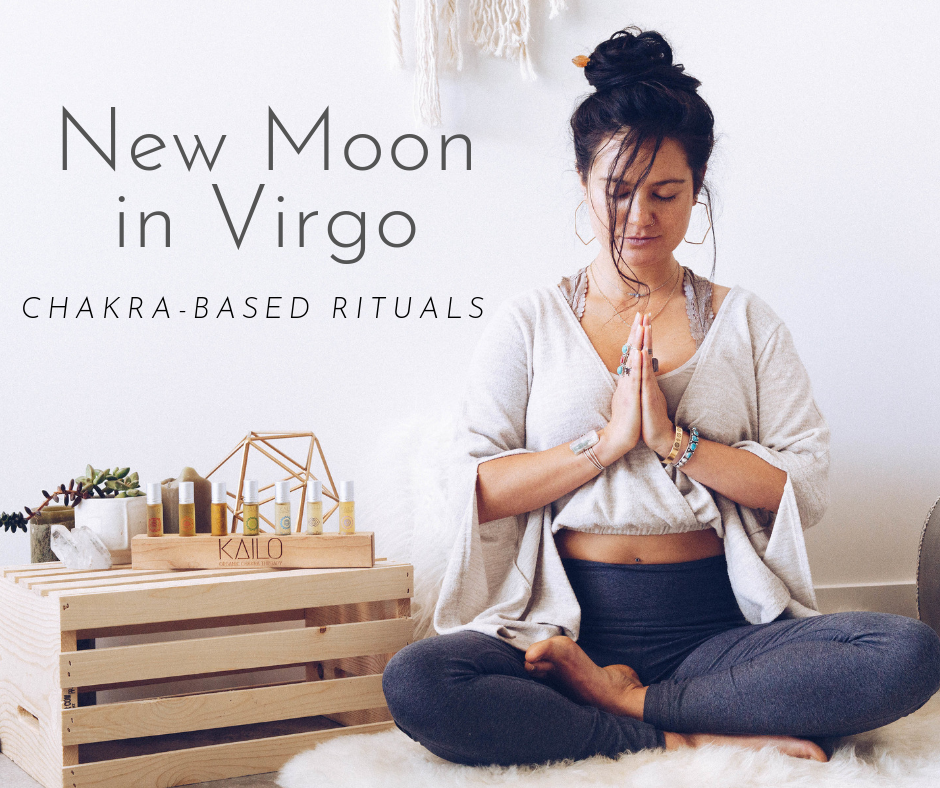 New Moon in Virgo
22 August, 2019
by

Vanessa Manning
in

Blogs
On Friday, August 30, 2019, at 6:37 am we welcome the New Moon in Virgo. As we've spoken about before, a New Moon represents the end of one cycle and the beginning of another 28-day cycle. The effects of the New Moon in Virgo will last for about four weeks and will lead us to the September 28th New Moon. The best time for making a fresh start and for beginning new projects is during the first two weeks of this New Moon cycle. 
This particular New Moon draws in the energy of Virgo; the virgin, the mother and the goddess. The Virgo Sun Season teaches us to find and hone our unique gifts and give them freely to the world. Her season is a time of service and shedding light on our true calling. It's time to focus on yourself and your healing. Until we heal ourselves, we cannot truly be of service to others. 
This particular phase of the moon gives us an invigorating burst of energy and initiative. Which means this is an excellent time for turning over a new leaf or starting a new project. You may also find yourself questioning old habits, behaviors, and beliefs as you search for new and inventive ways to make progress. 
You ready? Us too...let's dive in. 
The Gist
The August 30 New Moon at 06°46′ Virgo is conjunct Mars by one degree - but what's that mean exactly? Without going into too much detail, it makes for a very strong moon phase because of three reasons: 
Mars rules strength

Conjunctions are the strongest of planetary aspects

The aspect orb of one degree is very strong.
Mars is generally considered a malefic planet, being aggressive, combative and destructive. Lucky for us,  the loving influence of Venus and the communicative influence of Mercury make this a much more friendly new moon phase. Plus, the strongest aspect to the New Moon is the harmonious trine aspect to Uranus, bringing welcomed change and excitement. 
New Moon In Virgo Aspects
A New Moon conjunct Mars brings an abundance of energy and initiative. Lucky for us, Venus turns the aggression of Mars into passion and creativity while adding the nurturance of love and patience. (Phew!) On top of that, Mercury jumps in to help you think before acting and to express any anger through your words. Like adults. 
With levels of assertiveness, drive, and goal-directed energy at an all-time high, we recommend taking advantage should you be looking to start any new projects. While a Mars New Moon alone would typically cause over-assertiveness and impulsiveness, the addition of Mercury and Venus helps to promote harmony and cooperation. This is particularly helpful for business ventures and personal relationships.
This is an excellent time to leave your comfort zone and widen your social circle with some extraordinary people. A reliable intuition and flashes of insight can lead to increased self-awareness, creative breakthroughs, and new discoveries. You can break free from previous restriction or boring routines with a burst of daring energy. Taking risks will lead to unique opportunities to experience new activities, feelings, and relationships.
Follow your instinct and be confident about making changes and starting new projects. Your love life will benefit from increased sex drive, physical attractiveness, and open-mindedness. 
The Sacral Chakra
Ready to meet your inner Goddess? The August 30th New Moon in Virgo is strong and sexy because it is only one degree from Mars. Venus adds affection and tenderness to the raw, primal sex drive of Mars. This perfect blend of love and sex is well suited to give your Sacral Chakra a little tune-up.
The sacral chakra is the second chakra and is located three inches below the navel. It's associated with the emotional body, sensuality, and creativity. Its element is water and as such, its energy is characterized by flow and flexibility. The function of the sacral chakra is directed by the principle of pleasure and is associated with the following psychological and behavioral functions:
Emotions, feelings

Relationships, relating

Expression of sexuality, sensual pleasure

Feeling the outer and inner worlds

Creativity
Throat Chakra
The New Moon, Mercury, Venus, and Mars are all trine Uranus. This makes it even easier to express yourself like never before. You can confidently show the world the real you and tell people what you care about, what you love and what you really want. Mercury is also close to the New Moon which helps you understand and share your most passionate feelings and desires which means we'll need to tap into our Throat Chakras. 
The Throat chakra is the fifth chakra and is located at the center of the neck at the throat level. It's the passage of the energy between the lower parts of the body and the head. The function of the Throat chakra is driven by the principle of expression and communication and is associated with the below psychological and behavioral characteristics:
Expression, in particular, ability to express your truth, to speak out

Communication, whether it's verbal or non-verbal, external or internal

Integrity, your actions being in alignment with your word 

Connection with the etheric realm, the more subtle realms of spirit and intuitive abilities

Propensity to create, projecting ideas and blueprints into reality
Sacral & Throat Chakra Ritual
Find a quiet place and light some candles. Open the ritual by clearing the energy of the space with some local herbs you've collected.. From there find a comfortable seated position and begin to quiet your mind. 
Once you've found yourself centered, find your favorite Kailo product for the corresponding charkas and let your intuition be your guide. Smell them and let the aroma soak into your system. Apply them generously and caress them into your skin. While doing so, you can recite some affirmations that resonate with you. We've included some examples below for reference. 
Example Sacral Chakra Affirmations:
I am in tune with my emotions.

The relationships in my life are healthy and nourishing. 

I am beautiful and spread my beauty wherever I go.

I embrace pleasure and abundance.

I am open to beautiful possibilities. 
Example Throat Chakra Affirmations:
I am able to clearly state my needs.

I am authentic and in aligned with my truth. 
I communicate with others confidently.
I am able to speak my truth with ease and grace.
I listen deeply with total presence. 
We hope that this New Moon ritual helps you manifest that new start you've been longing for. To help get you there, all our Throat and Sacral Chakra products will be 15% with code VIRGO.